Gong Wins UMD Invention of the Year Award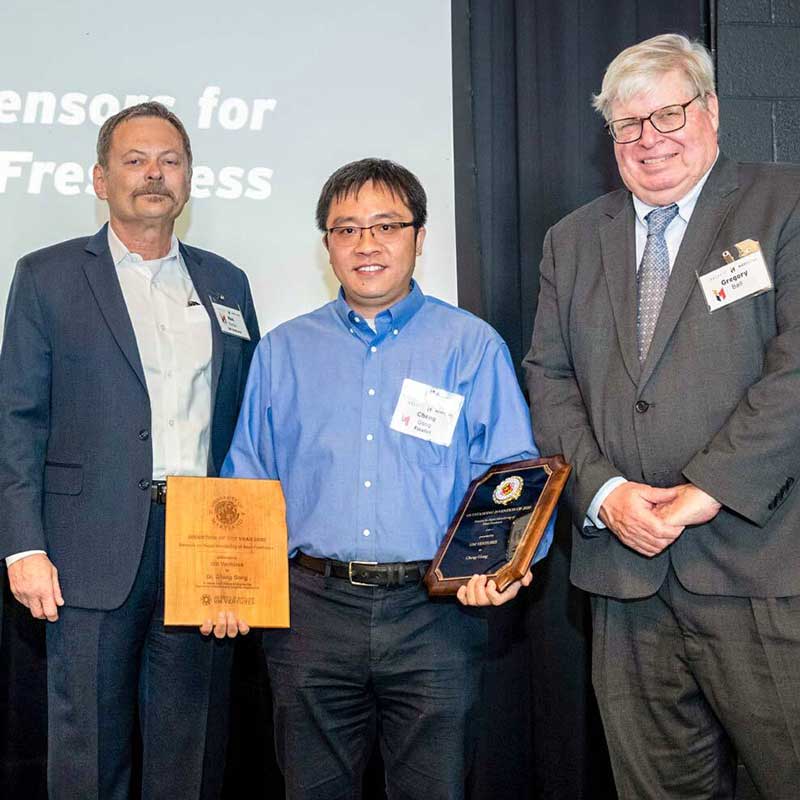 Department of Electrical and Computer Engineering (ECE) Assistant Professor Cheng Gong received the 2022 Overall Physical Sciences Invention of the Year from the University of Maryland (UMD) for his pioneering work in sensor technology aimed at reducing food waste by accurately monitoring the freshness of meat.
Some 30-40% of the U.S. food supply goes bad, is ruined in production or is simply thrown out before it ever reaches a table according to a U.S. Department of Agriculture estimate. To rein in that shameful statistic and bolster the nation's food security, the federal government aims to cut food waste in half by 2030—and Gong's innovative sensor system could be a big part of the plan, with far-reaching influence on multiple facets of the food industry due to its ability to accurately determine the freshness of meat
Through Gong's research, "2D Materials-Based Nanosensors for Rapid Monitoring of Meat Freshness," he developed technology to allow stores, warehouses and other users to accurately determine the freshness of meat. His tool is based on graphene, a two-dimensional quantum material that's a single layer of carbon atoms thick. In his sensor, it helps determine the presence of specific gas emissions from meat degradation.
"In the early stages of spoilage, meat produces an odor," explained Gong. "That odor can be 'smelled' by our nanosensors."
Anyone who has ever opened a package of spoiling meat is familiar with that distinctive odor. The sensor is so intuitive that it can determine the freshness of meat before the bacteria naturally present in meat begins to break down and create gasses that can indicate spoilage.
The use of this device has the potential for far-reaching implications for stores, warehouses, restaurants and more, in that in will be able to prevent significant food waste. And predicting freshness in meat is just the start. The sensors will be able to monitor freshness in multiple food categories and will be able to provide more accurate information than "use-by" and expiration dates.
This new sensor system surpasses arbitrary "use-by" and expiration dates in providing useful information, while being both cheap and effective; it also promises to be useful for applications beyond just meat.
Gong's research is supported in part by the Maryland Innovation Initiative, and has been published in Applied Physics Letters and ACS Sustainable Chemistry & Engineering.
Gong joined the ECE faculty in 2019, and currently holds joint appointments with the Quantum Technology Center and the Department of Materials Science and Engineering. After receiving his Ph.D. in Materials Science and Engineering from the University of Texas at Dallas in 2013, he was a Postdoctoral Scholar at the University of California, Berkeley, where he led the 2D Materials & Devices subgroup in the Zhang Lab.
His research interests include 2D materials and devices, 2D magnetism and spintronics, energy-efficient nanoelectronics and quantum phenomena and he has published work in multiple high-profile publications such as Nature, Science, Nature Electronics, Nature Communications, Proceedings of the National Academy of Sciences (PNAS), Nano Letters, and ACS Nano. Of particular note, his discovery of the first magnetic two-dimensional material has been cited in his 18 first-authored publications. In addition, he was awarded the IUPAP (International Union of Pure and Applied Physics) 2020 Young Scientist Prize in Semiconductors.
Along with other 2022 Invention of the Year category winners, Gong was awarded during Innovate Maryland, a yearly celebration of UMD's growing penchant for turning intriguing bench science into creative and exciting real-world products and brings together campus innovators, alumni, and community partners to recognize their transformation impact.
"They all demonstrate how the search for knowledge can spark an idea or an invention that, in turn, can inspire change, improve lives and benefit humanity overall," Vice President for Research Gregory F. Ball said of this year's finalists.
Celebrating innovative campus research, the University of Maryland has been recognizing Inventions of the Year winners since 1987. Since then, 108 inventions have been awarded the honor based on technical merit, improvements to existing technology, commercial potential and their overall benefit to society.
See the full list of UMD's 2022 Invention of the Year finalists in every category.
Some story content adapted from Maryland Today.
Published May 4, 2022