UMD Invests Over $10M in Research Equipment to Drive Discovery, Innovation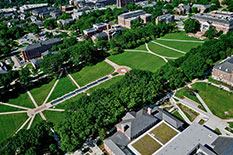 The University of Maryland (UMD) is making a major investment to obtain the most technologically advanced equipment on the College Park campus for application across a broad range of research areas, from neuroimaging to next-generation quantum materials.
The investment of more than $10 million was made possible by the new UMD Research Instrumentation Fund launched in March 2021 and co-led by Interim Senior Vice President and Provost Ann G. Wylie and Vice President for Research Laurie E. Locascio, in partnership with President Darryll J. Pines. The program was created to support faculty and core facilities through significant investments to replace or upgrade research equipment.
"The Research Instrumentation Fund awards will help catalyze new growth across the research enterprise and provide meaningful opportunities for education and engagement of students, researchers and partners," said Pines. "This significant investment in state-of-the-art equipment will further increase the impact of our research."
A distinguished scientific peer review panel assessed faculty proposals, and based upon these assessments, over $5 million in grants was awarded for new and upgraded equipment. The awards cover 50% of the cost of the research instrumentation, with matching funds contributed by each applicant's department or college covering the balance of more than $5 million. Researchers from across campus will benefit from the new and upgraded equipment.
The following equipment investments were supported by the Research Instrumentation Fund awards:
State-of-the-Art Scanning X-ray Photoelectron Spectroscopy Microprobe for Research, Training and Education
Karen Gaskell, Associate Research Scientist
College of Computer, Mathematical, and Natural Sciences
Department of Chemistry and Biochemistry
The new X-ray photoelectron spectrometer (XPS) will be located in the Surface Analysis Center, a shared university core research facility and NanoCenter partner lab in the Department of Chemistry and Biochemistry. XPS is an essential materials research tool for eight departments spanning the A. James Clark School of Engineering and the College of Computer, Mathematical, and Natural Sciences (CMNS). The materials that can be studied by XPS are truly diverse, with potential for strong impact in areas such as nanotechnology, energy storage and generation, among others, and the new state-of-the-art instrument will provide capabilities that the campus currently does not possess.
Light Sheet Instrument for Multiscale Cell Dynamics
Wolfgang Losert, Professor
College of Computer, Mathematical, and Natural Sciences
Department of Physics & Institute for Physical Science and Technology
To achieve a competitive edge in life science research, advanced imaging facilities and instruments are essential for investigation of the dynamic processes that govern living systems. With this instrument, as well as the existing dual-inverted selective plane illumination microscope, the Imaging Incubator in the Physical Sciences Complex will become a regional hub for light sheet imaging, enabling researchers to carry out innovative imaging projects with high potential for impact in multiple areas of the life sciences. To promote further applications of the instrument, the Imaging Incubator facility will develop hands-on training geared toward students and postdocs and leverage considerable synergies with existing collaborations involving the University of Maryland School of Medicine, the Brain and Behavior Institute, and the UMD-National Cancer Institute partnership for integrative cancer research, among others.
Advanced Thin-Film Deposition Suite for Next-Generation Quantum Materials
Johnpierre Paglione, Professor & Director
College of Computer, Mathematical, and Natural Sciences
Department of Physics; Quantum Materials Center
The new pulsed laser thin-film deposition system will enable atomic layer-by-layer deposition of advanced quantum materials. This instrumentation will support advanced research projects and foster advanced education and training of undergraduate students, graduate students and postdocs within UMD's large network. The equipment will be located in the Quantum Materials Center, a multidisciplinary research center that includes the Departments of Physics, Chemistry and Biochemistry, Materials Science Engineering, and Electrical and Computer Engineering faculty, as well as affiliate members from across the globe.
Upgrading the MRI in the Maryland Neuroimaging Center
Elizabeth Quinlan, Professor & Director
College of Computer, Mathematical, and Natural Sciences
Department of Biology; Brain and Behavior Institute
Gregory Ball, Professor & Dean
College of Behavioral and Social Sciences
The upgrade to the magnetic resonance imagining (MRI) equipment at the Maryland Neuroimaging Center will substantially enhance UMD research programs, allowing expansion in new directions currently not possible. The hardware improvements will substantially improve both spatial and temporal resolution of the imaging. With a current user base of eight laboratories across multiple colleges (including CMNS, the College of Behavioral and Social Sciences, the College of Education, the Clark School and the School of Public Health), improving these MRI capabilities will allow UMD to engage in national collaborations and longitudinal research studies related to brain and behavioral development.
"The upgrade will immediately enhance MR image quality, and advance all neuroscience research by Brain and Behavior Institute faculty who perform human brain imaging," said Quinlan.
Leading the Structural Sciences Through New Single Crystal X-ray Instrumentation
Efrain Rodriguez, Associate Professor
College of Computer, Mathematical, and Natural Sciences
Department of Chemistry and Biochemistry
Peter Zavalij, Director
College of Computer, Mathematical, and Natural Sciences
X-ray Crystallography Center
New instrumentation with state-of-the-art measurement capabilities for structure determination will help UMD's X-ray Crystallographic Center (XCC) further establish itself as a national leader in quantum materials science, structural biology, organic/inorganic chemistry, and materials science and engineering. Currently, the XCC supports the scientific research of multiple PIs from the Departments of Chemistry and Biochemistry, Physics, Materials Science and Engineering, and other units in the Clark School. The XCC also collaborates with federal laboratories, including the U.S. Army Research Laboratory and the National Institute of Standards and Technology, and other universities and colleges, including Morgan State University.
Acquisition of an Aberration Corrected Transmission Electron Microscope for Research and Education
Lourdes Salamanca-Riba, Professor
A. James Clark School of Engineering
Department of Materials Science and Engineering
An aberration-corrected scanning/transmission electron microscope with cold-field emission gun, energy-dispersive X-ray spectroscopy, electron energy loss spectroscopy, and scanning electron microscopy detectors will be used to acquire images and elemental composition at the true atomic level. This new equipment will be used in research related to new sources of energy, quantum materials, and nanotechnology—three areas that hold significant promise to bring substantial economic and employment benefits to the state. The new equipment will be housed in the Advanced Imaging and Microscopy Laboratory in the Jeong H. Kim Engineering Building and managed by the UMD Nanocenter for maintenance, scheduling and training.
"The new microscope supported by this award will greatly benefit our research in clean sources of energy, such as solar cells, solid oxide fuel cells and batteries, as well as in quantum materials for computing and storage, and advance our capabilities for in-situ imaging and chemical analysis of materials at the atomic level during electron beam irradiation," said Salamanca-Riba.
Multi-Chamber Plasma Etching and Deposition System
Edo Waks, Professor
A. James Clark School of Engineering
Department of Electrical & Computer Engineering; Institute for Research in Electronics and Applied Physics
Plasma processing systems are important research instruments widely used by faculty from a broad range of disciplines for making devices ranging from transistors to quantum circuits to biosensors. This new plasma etching and deposition system will allow faculty from across campus to conduct a wide variety of nanofabrication tasks, while providing indispensable tools for cutting-edge research and student training in many fields of science and engineering. The Nanocenter Fab Lab is the centralized facility that offers industry-standard etching and deposition tools for the UMD research community.
For more information about the University of Maryland research enterprise, visit umd.edu/research or sign up to receive the Research Roundup newsletter.
This story first appeared in Maryland Today.
Published June 23, 2021