Engineering at Maryland magazine highlights federal partnerships to tackle big questions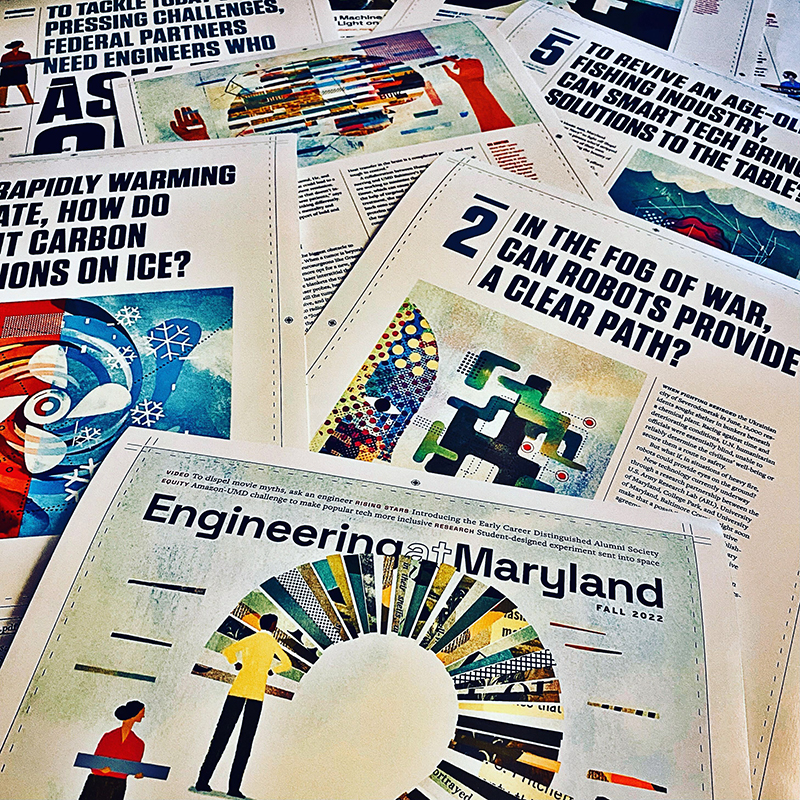 Revolutionary ideas to cut carbon emissions, combat food waste, eradicate cancer, and more.
Working on the front lines of big change, Maryland Engineering generated $182 million* in research expenditures in fiscal year 2022 alone. Having federal agencies such as the Department of Energy, National Science Foundation, and National Institutes of Health as neighbors provides a proximal landscape for cutting-edge innovation, but the allure of bringing transformative collaborations to Maryland Engineering is more than geographic.
In the Fall 2022 issue that hits mailboxes soon, Engineering at Maryland magazine describes a common denominator among the college's successful legacy of federal research partnerships: its diverse community of faculty, students, and staff eager to help solve challenges of critical importance to our nation.
Additional issue highlights include:
VIDEO: To dispel movie myths, ask an engineer
RISING STARS: Introducing the Early Career Distinguished Alumni Society
EQUITY: Amazon-UMD challenge to make popular tech more inclusive
RESEARCH: Student-designed experiment sent into space
Send letters to the editor:
Melissa L. Andreychek
Engineering at Maryland magazine
1143 A.V. Williams Building
College Park, MD 20742
email: mandreyc@umd.edu
Engineering at Maryland magazine is published twice a year for alums and friends of the A. James Clark School of Engineering at the University of Maryland. Digital copies are published on the Maryland Engineering website for sustainability purposes and to encourage online readership.
*includes computer science
Published October 26, 2022